Heating up the Mobile Market
Some might say that our competitors are feeling the heat because Burlodge has created an unbeatable line of mobile hot food servers. As many of our customers have grown accustomed, here's another line from Burlodge that earns its reputation by combining outstanding design, durability, functionality and value. Whichever model appeals to your needs, each of our hot food servers is ready to meet the demands of today's operations.
Burlodge hot food servers are built of stainless steel 18/10 [AISI 304] Scotch Brite Finish and feature ergonomic push handles and a robust built-in bumper. Double-wall construction and isothermic insulation to minimize heat dispersion combines with non-flammable, chemically neutral insulation to ensure optimum safety and efficiency. A drain tap for water is located in the upper tank(s), which includes a moulded upper section with a reservoir to prevent any liquid leakage, while the lower section has an easily accessible retractable door. The moulded control panel is effortless to use and is designed to ensure quick cleaning. This is all mounted on four 160mm/6.3" polyurethane rubber wheels – two fixed and two swivel wheels with a pedal brake.
The Burlodge GTR Series of mobile serveries: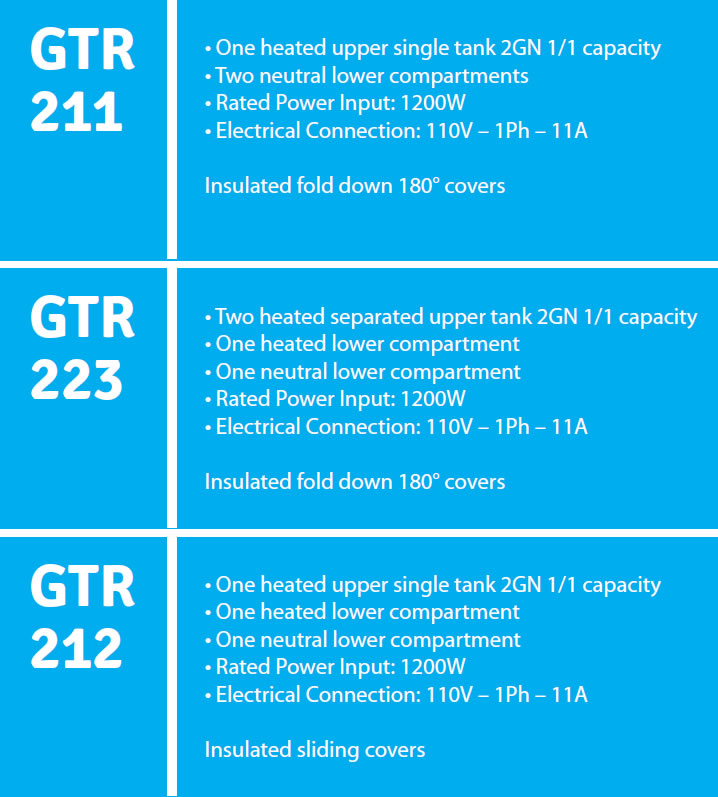 This is professional calibre equipment that food service operations need in today's market.
---
---
---