Ideas for Improved Patient Satisfaction and Wellness
Many facility managers are either serving a Continental Breakfast or considering to do so. In many cases they are investigating the idea of ward based assembly of a continental breakfast. To that end, Burlodge has reached out to its European counterparts to see what ideas they have embraced since continental breakfast in Europe is very common.
The array of Breakfast cart equipment in Europe is extensive to say the least, but it has taken years to reach a point where there is finally a cart available that meets the needs of the many rather than the few. This cart from Burlodge, called the Breakfast Beverage Cart, has been designed after two years of listening and testing. The cart is now available in North America.
Intriguing is the fact that the cart can also act as a simple beverage cart during in-between meal times or if a continental breakfast service is not offered. A hydration program is a very important aspect of nutritional care for the sick. In Europe hydration plays a major role in the healthcare sector's wellness mandate.
According to the British Dietetic Association ' Attending to the patients' fluid needs is an essential aspect of care. Many patients may be dehydrated, having raised body temperatures and in warm ward settings. Drinks should be accessible to the patient, served at an acceptable temperature, and in suitable and appealing cups, glasses or mugs. Care should be taken to avoid excessive fluid intake for those requiring a fluid restriction, as in some renal patients. The HCA Good Practice Guide (2006) recommends at offering at least 7 beverages a day with chilled water available 24 hours a day. It recommends considering water as an essential nutrient in a wholesome patient diet. In addition to tea and coffee, there should be access to fruit juices, cordials and milk based drinks as well as iced water."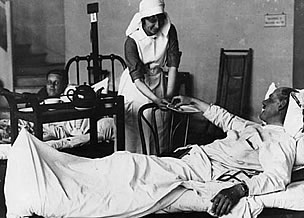 The idea of offering a beverage with a smile between meals is new to North America. It is often a 'help yourself' process for many patients who walk to a ward pantry and get a drink or perhaps they are lucky to have a visitor come to the ward that brings a coffee or tea during visiting hours. To offer a hot coffee or comforting tea at the bedside during mid-afternoon would mean more patient contact and it is that face time and direct patient care approach that will drive satisfaction to new heights. Some pundits may say that this is an increase in cost that the healthcare sector cannot afford or sustain. There are, however opportunities to find major discounts on ingredients from the manufacturing sector if the hospital features a specific brand of tea or coffee. There are opportunities to fund the labor and cost of this effort by 'leaning' other areas of the operation thereby reallocating work and cost from indirect non value adding areas of foodservice. The question is now asked and it is up to the courageous to find a way to make it work.
If, for example, a hospital has 6 floors and on each floor there are 30 patients and it would take 3 minutes to ask, pour, and serve each patient, a floor could be served in 90 minutes by 1 person. If that person could then go and serve another floor a full beverage service mid-afternoon could be completed within 3 hours between lunch and dinner. For the entire hospital one would need 3 staff to do this. This works out to be 1.68 productive Full Time Equivalent positions and where on earth could that staffing come from? It begs some important questions:
Can we improve our trayline in the kitchen to release 1.68 FTEs to make this service a reality?
Do all patients need to be served or shall we only focus on the patients who really can't help themselves during the day and if so then the requirement would be far less?
Can we receive funding for the service using volunteers and have it supervised and supported by professional food handlers in foodservice?
Can one combine a process with the beverage delivery like collecting patient meal choice for their next meal ?
At Burlodge, we believe that there are ways of finding answers to these questions, making this service a reality. It only means taking the time to look and catch a dream.
Another source to fund a beverage service may actually come from the implementation of a continental breakfast or the implantation of more advance meal delivery equipment that can help reduce the resources associated with meal tray holding, transport, cleaning.
References: Guidance on hydration
• Food, Fluid and Nutritional Care in Hospitals (NHS Quality Improvement Scotland,2003).
• Good Practice Guide Healthcare Food and Beverage Service Standards Section 4 (HCA, 2006)
• Water UK e.g. 'Water for Healthy Ageing' (Water UK, 2006 [online])
• Water for Health Alliance www.waterforhealth.org.uk
• Water for Health Alliance Bulletins available via www.hospitalcaterers.org
---
The Breakfast & Beverage Cart
Manufactured entirely in stainless steel, the BBC (Breakfast & Beverage Cart)  has an on-board boiler with the capacity to serve 90 cups (15 litres) of hot drinks.
The mobile service system has multiple drawers for holding baskets, hotel pans, or ingredient containers making it easy to obtain items during service. China can be carried on-board in three standard 500mm square cup baskets.
The integrated Toast warming cabinet keeps a breakfast tradition on your menu.
FEATURES
15 litre (90 cup) capacity hot water boiler with non-drip tap, water level gauge and 'water ready' light
Three 1.2 litre loose ingredient dispensers
On-board heated toast compartment, 20 slice capacity
Four x 3 litre cereal containers
Recessed spill area
Drop down tray storage/serving shelves
Cutlery container
Waste container
Two x GN 1/1 100mm deep polycarbonate containers
Excellent maneuverability
Required electrical for Hot Water 110 Volt.
Dimensions: 1 145mm (l) x 570mm (w) x 1 360mm (h).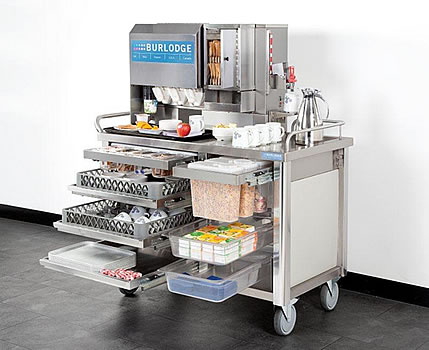 ---
---
---