B-Fit: Staying Active in the Winter
Hello Everyone,
Staying physically active is a challenge all year long, but can seem extra daunting during the winter months when our options may seem limited by the weather. The following is a review of the importance of staying active and provides some ideas on how this can be done in the winter.
The Canadian Society for Exercise Physiology recommends that adults should accumulate 150 minutes of moderate- to vigorous-intensity physical activity per week. For many of us this is difficult to achieve, and even more so during the winter months when our options seem limited. During the winter months getting yourself bundled up for a walk, run or to head to the gym may seem inconvenient, especially when compared to alternatives such as curling up on the sofa with a cozy blanket and cup of hot tea.
Inactivity is a risk factor for several chronic diseases and fortunately for us, it is modifiable. Regular physical activity can reduce your risk for premature death, cardiovascular disease, stroke, high blood pressure, type 2 diabetes, osteoporosis and assist with weight management. It also leads to improved fitness, strength and mental health. Studies show that moderate increases in physical fitness levels can produce large increases in overall health status, especially for previously sedentary individuals. The benefits of physical activity clearly outweigh the inconvenience of the cold weather, so it's time to get active!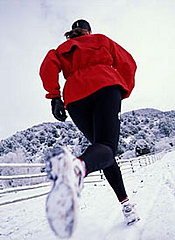 Some activities such as running and walking can be done year round if you're willing to brave the weather. These can be done safely but require making sure that you have appropriate gear, clothing and being smart about when it is and is not safe to go out. Some days you might be better off using a treadmill, indoor track or just walking at an indoor facility. Several other sports can be taken indoors and there may even be indoor sports leagues in your community. Some possible options available in your area may include soccer, floor hockey, volleyball and dodge ball.
Winter is only here a few months a year, and with it comes a short season for many fun and exciting activities. A non-exhaustive list of the options include downhill or cross-country skiing, snowboarding, tubing, skating, snowshoeing, tobogganing, snowmobiling, curling, and hockey. For even more ideas, consider all the events that are taking place right now in Sochi for the Winter Olympics, which include variations of some activities listed above. If you're really adventurous, you may even consider participating in a "Polar Bear Dip" next year as these most frequently occur on January 1st.
Many winter activities are more accessible than you think and several can be done without having to travel very far! Visit your city's website to find out where to go and if you're willing to go the distance, you can also look into provincial or state parks to increase your options. 
For those of you at Brampton Headquarters, here is a list of where to go:
Chinguacousy Park for skiing, snowboarding and tubing http://www.brampton.ca/EN/residents/Community-Centres/DMG-Chinguacousy-Park/Mount-Chinguacousy/Pages/Fees.aspx
Gage Park or Mount Pleasant Square for outdoor skating (free if you have skates!)
http://www.brampton.ca/en/Arts-Culture-Tourism/Tourism-Brampton/Visitors/Pages/WinterSports.aspx
Community Centres for indoor skating
http://www.brampton.ca/EN/residents/recreational-Activities/Pages/Skating-Schedules-Fees.aspx
Brampton Wilderness Centre for snowshoeing:
https://www.brampton.ca/EN/residents/recreational-Activities/Documents/BWC-FULLBOOK.pdf
Brampton Curling Club or Chinguacousy Curling Club
http://bramptoncc.com/home.php?club=101
http://chingcurling.com/home.php?club=111
In some parts of North America we have the opportunity to participate in a plethora of winter activities, so take advantage of the short season. Now that you know where to go to stay active this winter, get out there and B-fit!

Photo Credit: Duda Arraes via Compfight cc
---
---
---